PLAYS
Live stage plays and touring the world have been the core of the ministry for many years. In 2013, a major accident severely hindered my ability to travel and perform as I have in the past, but we still offer local performances in and around Southern Ca. and possibly some limited travel. Contact us if you'd like to have us come and share at you church or event. Contact info is at the bottom of the page.
Currently, we are offering the following;


HEART in a BOX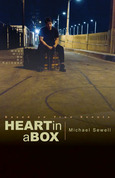 This groundbreaking original musical is based on Michael's own story. A man is shackled to a heavy old steamer trunk that becomes a metaphor of his past, his addictions, his depression, and spiritual torment. Desperate he is driven to dead mothers attic where he has determined to find the key to his freedom or take his own life. Surrounded by the memories that haunt him he searches for the answers that have eluded him. His search leads him through all of the heartaches of broken dreams, lost confidence, the pain of an alcoholic home, occultic agony, finally leading to a final moment of truth before God.

Heart in a Box is an emotional whirlwind that has you singing along, laughing and crying, but it's ultimate effect is a powerful spiritual challenge.

Michael has performed "Heart..." over 2000 times to audiences from 7- 12,000. It's ministry remains fresh because this hope never gets old! And yes, he is still happy to bring this message to your church or event.


Heart in a Box runs approx 1:30 but can be altered to as short as 1:00. Great for outreaches, church services, and special events.
---
The Bema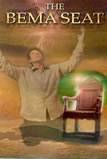 Businessman Daniel Matthewson discovers that the way we conduct ourselves daily determines how we experience eternity. Thinking he is beginning just another day, he encounters The Day: the rapture of the church. Escorted by his "guardian angel" into the heavenly realm, Dan observes the wonders of Heaven, talks with angels, and learns to see life from a totally new perspective.

The first order of business is the Bema, the Judgment Seat of Christ. Millions of saints from every era and nation stand individually before Christ to be evaluated. While all possess eternal life in Christ, they receive different rewards and degrees of glory.

When Daniel appears before the Bema, the Lord gives him truly accurate self-knowledge for the first time in his life. More than anything else, Daniel longs to hear the words, "Well done, good and faithful servant!" But, has his life earned that supreme reward?

The certainty of this day of reckoning has profound implications for the way believers should live here and now. The Bema presents this biblical truth in a thrilling and understandable way helping Christians focus on living in the light of The Day rather than merely for today.

The Bema runs 1:15 and fits perfectly into a church service.
---
THE MARRIAGE CoNSPIRACY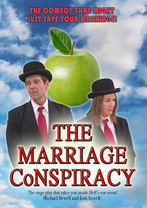 The Marriage Conspiracy opened to enthusiastic reviews! It's being called "The Screwtape Letters" for marriage. The thoughts and insights from God's Word are illustrated in such a way that people are still meditating on them weeks later. Viewers are reporting back that they are thinking of their vows in a whole new way and are fighting with new zeal to have the marriage God intended them to have!

This dark comedy blindsides with Biblical truths, as we watch the strategies of two demons plotting the destruction of a marriage. One of the greatest attacks on the church currently is focused on marriage. This play will be especially useful to married fellowships and retreats, as couples will be stirred up to recognize the spiritual warfare that targets their relationships, and help equip them to take a stand for God's plan in their marriage!

As well as the play, Michael offers biblical teaching sessions to expound upon the themes of the play.

The Marriage Conspiracy runs 1:15 and is best suited for marriage retreats, marriage conferences, and couples events. Not recommended for general church services due to mature subject matter.



---
---
SHORT FILMS
Whenever possible I like to make short films. Short films are odd little pieces of cinema that are meant to put across a simple message and don't allow for too much subtlety. They also don't have a defined place in our culture other than super shorts on Youtube and Facebook or other social media or in film festivals. As such, if you're going to make a short film there's not much chance that you can recoup your investment so they need to be labors of love, and so I offer you some of this work I love to do.
Hope you enjoy these gifts, and they lift you higher.
A Promise is a Promise
A lot of really talented people came together and helped bring this important story of forgiveness and Salvation.
A film version of one of the scenes from Heart in a Box, "A Promise is a Promise," runs 20 mins. and has a powerful message for anyone who has been touched by addiction, or deeply wounded by someone you trusted. Please click on the link and enjoy, and be sure to pass it along!


Bridge
Filmed this in 2011 with the talented Matt Givot. The 6th Street Bridge is a famous film landmark in LA, and has been in many films TV shows and commercials. Now we've filmed there too!
Some viewers seem to want to judge this short as if we had time to explain and illustrate all the fine points of theology, but alas, it is only meant to make a single point, and not fully explain the mind of God.
Given that, hope you are moved in a positive way to be aware of the suffering of others and share the hope that you have.
Peace.


Wheel of Knowing - Short
My first film project I wrote, produced, and directed. This short took first place in the "Place Called Sacramento Film Festival," and inspired the feature film.
Black Monday-Currently in Production
An unemployed businessman's suicide plan is challenged when he encounters a messenger from God in a coffee shop. The highest rates of depression and suicide in our culture occur among middle-aged men, it is the goal of this project to bring to light this struggle and to offer warning comfort and hope to those suffering.Black Monday is currently in rehearsals and pre-production. This is a project from Poiema Players and the Michael Sewell Acting Class.

---
FEATURE FILM
Wheel of Knowing
Melanie has this "life thing" all figured out. She knows she can conquer any challenge as the perfect Christian wife and mother. So against all advice and protests from her family, she brings Sam, her Alzheimer's inflicted father, into her home, certain she can fix him. Her illusions prove no match for Sam's delusions as his disruptions start to unravel Melanie's "perfect" existence.

Fixated on reaching a deteriorating Sam, she fails to notice her own family is falling apart. Caught between a failing marriage, a rebellious teenager, a sick child, a friend's betrayal, a crisis of faith, and Sam's relentless needs, Melanie begins to feel as lost as her father. But when old secrets of Sam's abusive past surface, Melanie's good intentions turn to rage at the "monster" in her own home.

Stretched to the brink Melanie is not prepared for the catastrophe that threatens everything. Desperate to save a life, she must find a salvation that is beyond her own understanding. Something that might be locked in Sam's broken mind, something that must be revealed. Something only God knows.

Christian Film Guide gave my movie the review that I had always hoped for! So thrilled that the ministry message of the film got through. http://www.christianfilmguide.com/wheel-of-knowing-a-story-of-hope-2010-review/

Facebook Page;

https://www.facebook.com/wheelofknowing

Website

http://www.wheelofknowingmovie.com/index.php

Available for purchase on our shop page.

---
---
CLASSES
Poiema Players & Michael Sewell's Acting Class
If you live in Southern California, here's you chance to develop acting skills in a creatively stimulating and Christian friendly environment. This is a class where you have the opportunity to study method acting in the tradition of many of the great teachers. The core of the teaching is inspired by Lee Strasberg's techniques, but we also explore the approaches to the work as taught by Meisner, Terry Schrieber, Uta Hage and others. Christian and Non- Christian alike will find this class rewarding.
Some students study to be part of Poema Players and work on ministry projects and others have launched or enhanced their industry careers. The class is inexpensive and does not require any contract or long term commitment. Whatever your skill level you are welcome to join us. We meet most Thursday evenings in Huntington Beach. Follow the links for more information.
Facebook page
https://www.facebook.com/michaelsewellactingclass
Meetup page
http://www.meetup.com/Christian-Acting-Meetup-Michael-Sewell-Acting-Class/
---
S.L.A.M. Class
Social Learning through Acting and Media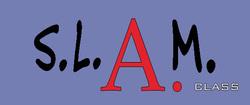 S.L.A.M. is a curriculum and class I've been developing for the past year aimed to teach social skills to kids and young adults with social challenges or high-functioning autism or Asperger's. This is a high energy, fun and compassionate program to help solve the problems of isolation and social frustration that many young people experience.
Classes will be starting soon!
If you or anyone you know might benefit from this program and you'd like more information please follow the link provided to find our more and be informed when classes will start.
http://slamclass.com
---
---